Switching To A Responsive App-Like Experience
Diminishes the bounce rate by an effective UI/UX. The Progressive Web App will also happen to enhance the SEO to set up the Mobile First Approach.
Why build a PWA?
Combine the best of the web and the best of apps. Feels like an app, works like a website, Faster even on Flaky networks, Headless and Lighter.
Progressive Web Apps are the future of the mobile experience.
"A Progressive Web App uses modern web capabilities to deliver an app-like user experience." – says the PWA Team.
PWA is capable of utilizing the native device APIs to deliver a seamless experience to the mobile user.
Web Push Notifications
Re-engagement of the customer by sending them a reminder through Web Push Notifications.
These notifications can contain any sort of information right from the latest sales to fresh arrivals.
This feature is said to re-call maximum customer even if they have left the app.
Offline Mode
The major advantage of the PWA app is that it can work on low or no internet connectivity.
The Pre-loaded pages can open in the app without any hassle.
This is of great advantage when the customer is a consistent traveler.
Add To Homescreen
Add to Homescreen can also allow the incrementation of engagement of the mobile web customer.
The customer needs to struggle with the websites or browser to operate various functionalities on the store. It just feels and looks like a Native app.
Every functionality is now just a tap away. Thus, allow the customer to remain encouraged.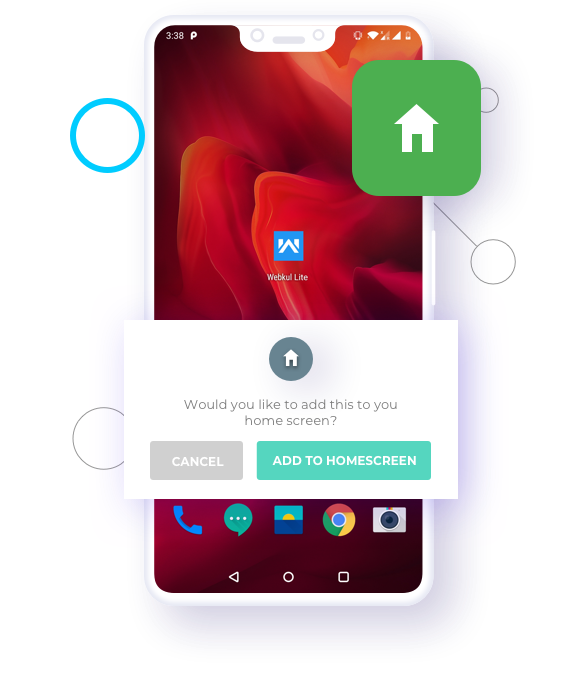 No Specialized Updates
The direct addition of the app from websites will remove the requirement of the regular updations.
PWA generally don't require to be published on the Play and App store. They can be added to the device with the help of the website.
Thus, the updates here need not be acquired by the acceptance of the updates notifications.
(Note- However, if you wish you can add them of the play store and app store as a native app.)