Why build a WMS App?
Order Management is the toughest part of any eCommerce business. To get rid of it, a perfect solution is a need.
Here the Warehouse Management System (WMS) mobile application comes in the picture. It helps to manage all the orders which are arriving at the store.
Also, it provides the best solution for managing the orders of the eCommerce store which arrive at the warehouses.
Due to the MSI feature of the Magento, inventory management gets easy. So it leads to easy management of the warehouses.
What is WMS Mobile App?
The WMS Mobile application allows the warehouse staff to easily see how many orders have been assigned to them.
The customers will be able to see the status of their orders under their profile.
How to use the WMS mobile app?
The WMS mobile application is very user-friendly. The app will be available on the Play store and the Apple store.
The agents can download the app from the respective stores and start using it. The WMS mobile app shows all the orders which are assigned to the agents.
The app has the barcode scanning functionality which helps the agents to scan the ordered products for further processing.
Multiple Staffs
There is multiple staff in a single warehouse.
Each staff has their own WMS mobile app. They can handle the orders which arrive at the store and assigned to them easily.
The app will provide ease to the agents to proceed further with the assigned orders.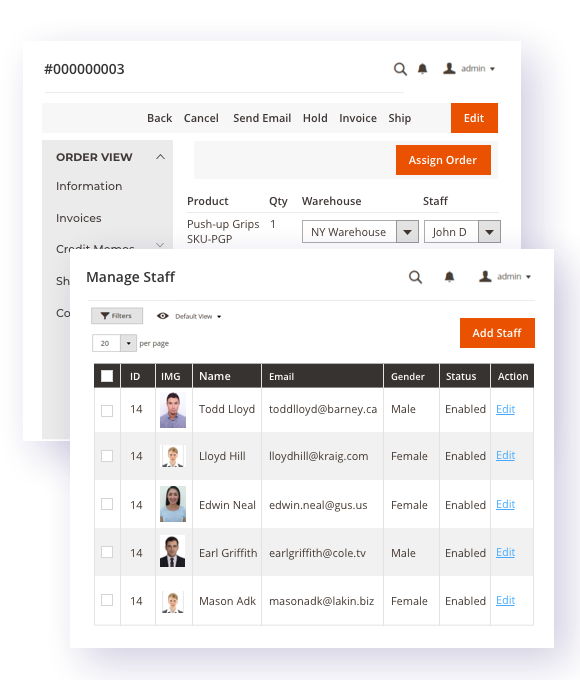 Order Assignment
The admin can directly assign the orders to the warehouse agents from the back-office.
and the order will get reflected in the WMS mobile app of the agent.
The main advantage of the WMS mobile app is that the order is assigned to the particular agent of the warehouse.
Thus, this helps to manage the order arrived at the warehouse very easily.
WMS Push Notifications
When the order is assigned to the warehouse agents, they will receive the notification.
The notification shows the new order is assigned to the agent.
The WMS app will keep the warehouse agents aware of the orders which are assigned to them.
This will help to no further delay in starting the order processing.
It decreases the time consumption will involve in the delivery of the product.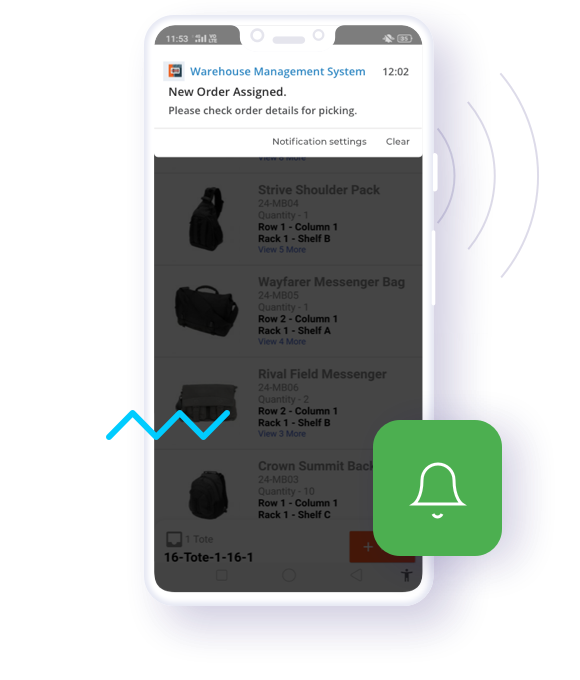 Order Verification
Once the order is verified by the agent, its status changes to Packed.
The verification of the picked order will increase the accuracy of Pick, Pack, and Deliver.
It decreases the delivery time and order accuracy errors which leads to the easy processing of all the placed orders.