With the social login, the customers don't need to fill forms for Sign Up, login is just a few taps away. Customers can easily Login the mobile app via using their social accounts like Facebook, LinkedIn, Google, etc.
So, the major advantage of social logins is to make the registration simpler, and faster.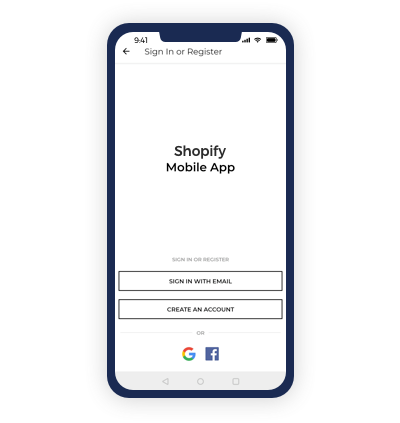 This image is just a reference for the general registration page. The UI and features will be according to your purchased application for the respective platform.
Social login can be a straightforward solution for mobile application users, there will possibly be less failed logins.
Note: It is the customizable (paid) feature. If you want this feature in the Mobikul Mobile Application then it will be done through customization.
Requirement Of The App-
For the integration of the social login feature in the mobile application, we will need the latest-
SDK of the social login platform,
Documentation guide,
Test credentials(both admin and test user)
Other mandatory fields as specified in the documentation.
CUSTOMIZATION COST: 50 USD for each social login like Facebook, Google, Twitter, LinkedIn, Pinterest, Instagram, etc.
How to pay for the customization that you can check here – Customization Payment.
Category Name: You need to select the category as 'Mobikul Customization'.
So, if you have any query, please create a ticket with the complete requirements along with the platform details.
OR
If you already have the account on the ticket system then please Sign In the system. Following which you can share requirements regarding the customization of this feature.